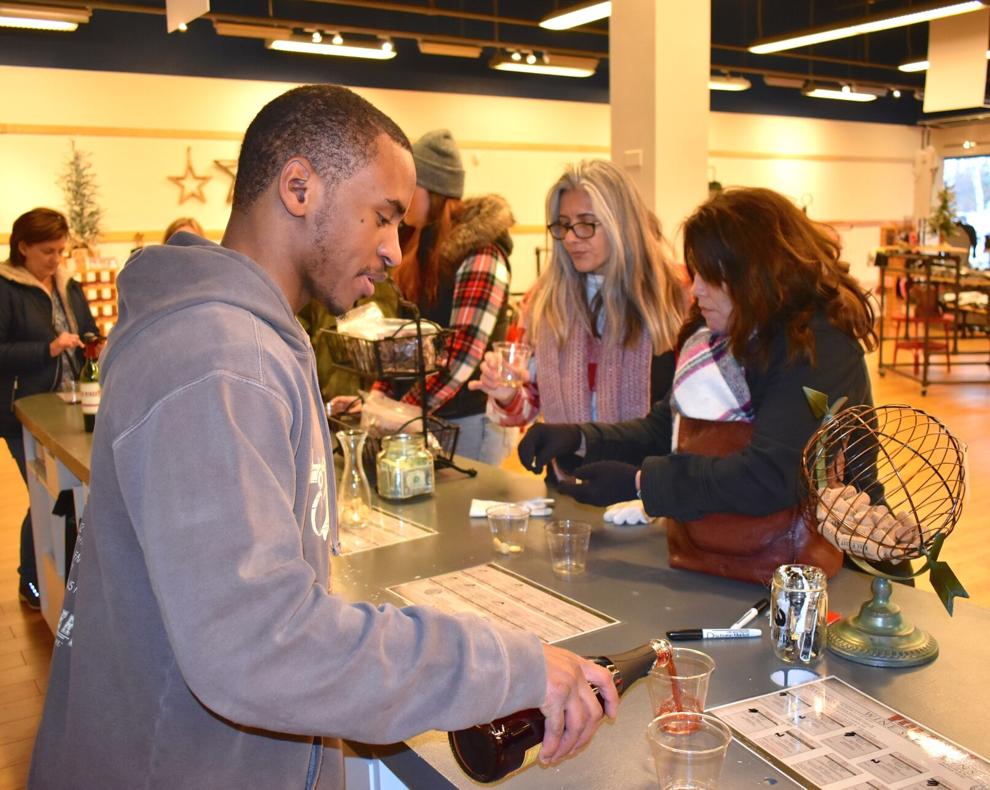 Weather conditions left Mercer County's Black Friday shoppers' looking a little like Santa Claus, as the temperatures and winds made their cheeks look like roses and noses like cherries.
Retailers welcomed those shoppers indoors to warm up sales after almost all of the shops closed their doors on Thanksgiving. Friday, the traditional opening of holiday shopping, also afforded consumers an excuse to get out with friends and family.
After more than a year and a half of the COVID-19 pandemic, very few shoppers wore masks.
Patricia Wilkison and her sister Sandy Barber stopped to sip wine samples at Webb Winery's Grove City Premium Outlets store in Springfield Township. Originally from Pittsburgh, Wilkison made a Thanksgiving trek from her West Palm Beach, Fla., home to visit her sister. She called the outing a "sistercation.''
"This isn't something that we do every year,'' Wilkison said. "I'm hanging out with my family and having fun.''
And this wasn't a meticulously-planned venture.
"We're winging,'' Barber said. "This is our first stop.''
Opening at 6 a.m., the outlet's parking lot quickly filled, said Michele Czerwinski, director of Prime Outlets' marketing and business development. Even by late morning, outdoor lines could be found at a couple stores.
There were noticeably fewer Canadian license plates — normally a common sight during the holiday — in the parking lot this year than past years.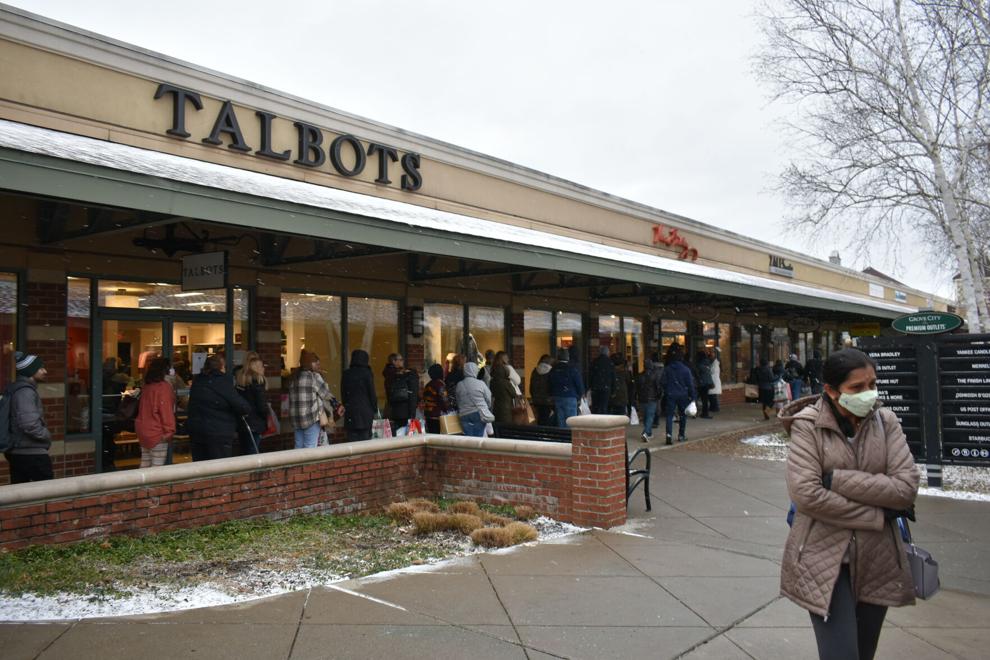 "The Canadian dollar isn't very strong now,'' Czerwinski said. Under current exchange rates, every Canadian dollar is worth only about 78 cents of American currency.
For many shops, Black Friday is the year's biggest day for revenue. Advertisements and flyers indicated that stores were enticing consumers with deals such as $5 crock pots and 42-inch TVs fetching $149.
A couple stores talked about tight supplies created by the COVID-19 pandemic
"I'm not selling any more furniture from my floor,'' said Collin Crombie, owner of the Amish Peddler furniture store in Springfield Township.
The bulk of the store's furniture is produced by Amish residents in Ohio, and they're suffering getting basic supplies, Crombie said.
"I think people realize this is the way it's going to be for a while,'' he said. "I don't see stores getting back to normal for another two years.''
But Crombie is grateful shoppers are still eager to buy.
"I think American-made is making a comeback,'' he said.
Shenango Valley Mall in Hermitage had a fair number of shoppers with filled bags walking through the concourse. Bath & Body Works, for one, was packed.
Ellie Thompson's Hermitage family enjoyed their day at the mall.
"It just feels good to be out of the house,'' Thompson said.
Thompson bought chances for basket raffles at the All Paws Matter booth in the concourse. The non-profit group generates funds for pets that have been rescued and other needs.
"Everyone who stops here has a pet story,'' Kathy Palombi, a volunteer for the group said with a broad smile. "We'll talk about our pets here for hours.''
Village Party Center in Brookfield, Ohio, saw a steady stream of customers buying beer, wine and spirits.
Shawn Morgan, the store's manager, said Village Party Center is ready to serve holiday festivities, with a growing number of alcoholic beverages in short supply.
"There's some bourbons getting hard to find and some vodkas are disappearing,'' Morgan said. "We've been told Rolling Rock is short of bottles because they can't get the material to make the bottles green.''