The omicron variant will mean some rough months ahead, with an expected surge of new COVID-19 cases, said an Allegheny Health Network doctor.
"We're already starting to see increases in new cases everywhere in western Pennsylvania,'' said Dr. Brian Lamb, the AHN physician. The Pittsburgh healthcare provider owns AHN Grove City hospital in Pine Township.
Doctors' offices are seeing a jump in demand for COVID testing. That has left people scrambling for appointments and home test kits.
"I have patients where it's somewhat difficult to get them tested,'' Lamb said. "So many of them have been exposed to someone with COVID and want to get tested.''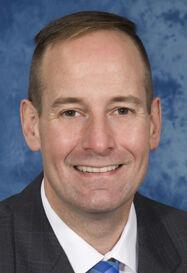 There's concern in the medical community that patients might clog emergency rooms with minor illnesses, even though it's not yet a problem in the AHN system.
"We still have a lot of availability now,'' Lamb said. "It's a matter of everyone trying to do their part to keep it that way.''
What gets tricky, he said, is that some common cold symptoms — stuffy nose, tiredness and sore throat — mirror those of COVID.
Lamb said people need to look at the severity of symptoms, particularly fever. Anyone with an extreme body temperature should probably check in with a doctor.
The new omicron variant is more contagious than previous coronavirus strains. and cloth masks don't provide protect as well against omicron. Lamb recommends three-ply surgical masks when possible.
"But if you find yourself with cloth masks, wearing two is better than just one,'' he said.
The U.S. Food and Drug Administration has granted emergency use approval to a treatment, AstraZeneca Evusheld, for COVID-19. The drug can be used by those with medical conditions that make them exceptionally vulnerable to COVID-19. But supplies are very limited.
The best defense, Lamb said, is to avoid getting the disease in the first place. Like the rest of the medical community, he urged people to get vaccinated.
"We're still in a pandemic,'' he said. "And the number of cases is going up.''