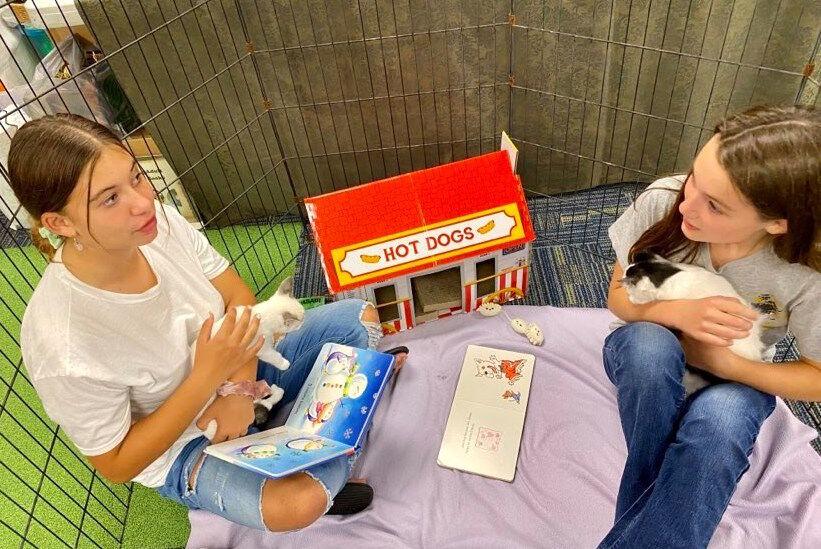 GROVE CITY – More than two dozen kids had a difficult time controling their excitement Friday as they gathered at the Grove City Community Library to read to some furry friends.
"I really like it. I love them a lot," Adrianna Vandegrift, 7, of Grove City, said as she cuddled with several kittens.
The library and Grove City Area Pet Rescue hosted Paws to Read, giving kids a chance to practice reading and the kittens an opportunity to socialize.
Rescue volunteers arrived with eight kittens, available for adoption, while the kids and their families brought donations of food, toys, litter, scratching posts and cleaning supplies.
Volunteer Jessica Hagan said all of the cats are younger than a year old.
The COVID-19 pandemic has hit nonprofits hard, and the pet rescue is no exception. The group had to cancel or postpone some of its fundraisers, but it is slowly getting back out into the community had have been trying to come up with creative event ideas.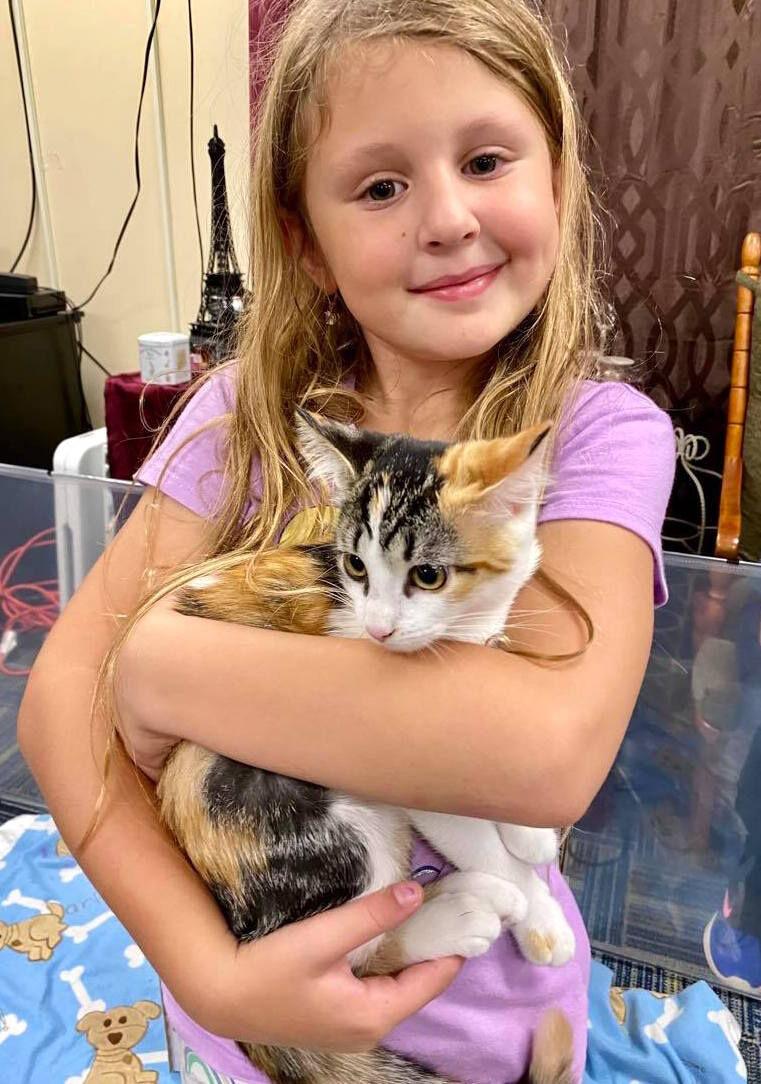 "The last 18 months have been a challenge," she said.
Grove City Area Pet Rescue approached the library with the Paws to Read idea, and they were immediately on board. The library has always been a big supporter, she added.
Heather Baker, the library's director of children's programming, said the library staff was just as excited as the kids to interact with the kittens and see the kids reading.
Organizers set up four enclosures — complete with cat houses, litter boxes, treats and toys — in the library's program room. The kids divided into several groups.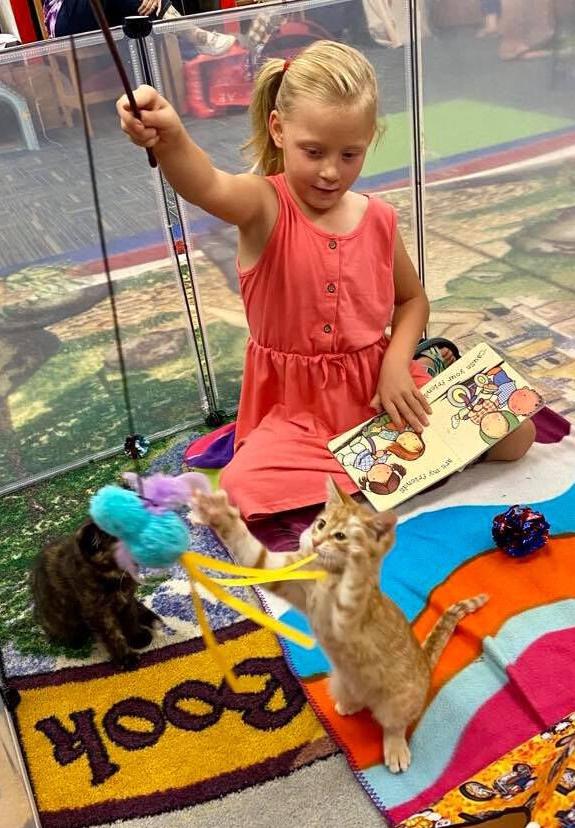 While the children waited their turn to read to the cats, they enjoyed snacks and making headbands with cat ears. Each child picked out a book to read to the cats – social interaction that Hagan said helps prepare the animals for their forever homes.
"They might find one that's a good fit with their family," she said.
Six-year-old Baylee Hayes of Grove City read "The More We Get Together" to Marmalade and Paddington.
Some of the kittens didn't sit still for long and were more interested in the cat toys and scratch pads.
Cassie Shields, 12, of Slippery Rock, held Dim Sum, reading "Happy Valentine's Day, Mouse!" while Abigail Breakiron, 12, of Grove City, showed "One Snowy Day" to Dumpling.
Both girls said they love reading and cats. Cassie has six kittens plus some older cats. Abigail hopes to be able to adopt a kitten someday.
"We got to play with cats. That's all that matters," Abigail said, smiling.
Adrianna and her family volunteer for the pet rescue as a foster home for cats and kittens awaiting adoption.
Her mother, Salwa, was happy to see the kids and kittens having a good time.
The pet rescue is always in need of more volunteers and foster homes, and people to help clean the adoption center, Hagan said.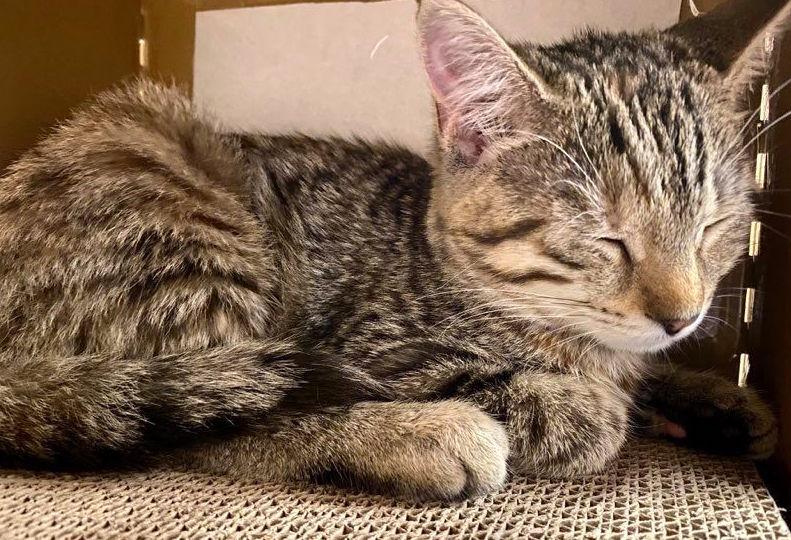 Grove City Area Pet Rescue is planning a virtual 5K for this fall, and it is hosting a rummage sale from 10 a.m. to 4 p.m. Sept. 25 at the Pine Township Volunteer Fire Company Social Hall, 1252 S. Center St.
The "Undiscovered Treasure Sale" will include food, basket raffle, bake sale and more. Donations for the rescue are welcome, and all proceeds benefit the organization.
For more information about Grove City Area Pet Rescue, email grovecityareapetrescue@gmail.com, call 724-372-0491, or check out their Facebook page. For more information about Grove City Community Library, call 724-458-7320, visit www.grovecitypalibrary.org or check out "Grove City Community Library, PA" on Facebook, or email gccl@grovecitypalibrary.org