ATLANTA — Claudia Wood knows that people don't go into child care for the money.
Wood worked in child care for 28 years managing a Kids R Kids facility in Roswell, Georgia. Now, after retirement, she helps other providers navigate the everyday challenges of the industry.
"In early childhood education, we go to four years of school just like everybody else. I think when I started the starting wages were like $5.25 an hour," she said. "So you really have to pour a lot of yourself into the job to survive."
In 2020, the average pay for a child care worker in Georgia is about $19,822 a year or $9.53 an hour, according to the National Association for Education of Young Children.
Child care centers have long faced a vicious cycle of losing staff to higher paying jobs at school districts and lost even more because of the safety concerns of working in the setting during the pandemic.
When the COVID-19 pandemic shuttered schools, community programs and child care centers the impact on the workforce was cataclysmic.
Workers — especially working mothers — left the labor force in droves. Some who were laid off had to rely on unemployment checks as their main income with child care woes keeping them from looking for another job. Others simply had to leave in order to provide care for their child.
In the early stages of virus spread, only about 30% of child care centers across Georgia were able to adjust to new safety procedures and remain open.
The Center for American Progress, a progressive think tank, reported finding that the pandemic led to a 144% increase in child care-related work absences compared to the year prior — at its highest during a single week in October, 93,900 workers called out of work.
"There were a lot of issues with child care even before the pandemic," said Erin Robinson, a campaign manager for early childhood policy, at the Center. "But the pandemic has exacerbated the issue, brought it to the front of people's minds, and has helped people to understand that we cannot have an economic recovery without supporting the industry that supports all the other industries."
The Peach State was a leader in early child care with the development of its state lottery-funded pre-kindergarten scholarship program created in 1992. But since, efforts to revamp the system have been few and far between.
A survey conducted by the Georgia Budget and Policy Institute found that nearly half of responding child care providers don't believe the state funds are sufficient to sustain high-quality care.
Child care providers and advocates in Georgia say the recognition of how the industry helps hold up daily life in the state and across the country is long overdue.
"We knew that child care providers were operating on razor-thin margins, before the pandemic," said Hanah Goldberg, director of research and policy with the Georgia Early Education Alliance for Ready Students. "... People who work in this space have understood these challenges, because it's so intimate to the work that they do. But in many ways, it did take a pandemic to shine a light on our broken system."
Billions in federal dollars have been dispersed to prop up the industry that plays a key role in economic recovery. But industry leaders worry that when the extra funds run dry, providers will be back to where they started.
"I would say four months into the pandemic was when child care was in the forefront," Wood said. "And after all these years, people were finally recognizing that it is a critical part of the infrastructure, no matter where you live in the United States of America."
'Barely holding on'
Sheltering Arms Early Education and Family Centers that operates in the metro Atlanta area has managed to thrive as an industry leader for more than 130 years after opening its doors in 1888.
Blythe Robinson, president and CEO, said it was hard to keep early childhood teachers before the pandemic, and now it's even harder to bring them back.
"Early on the language for first responders and frontline staff didn't always include our early learning teachers — and they are," she said. "So we had to really wrestle with that as we reopened for the needs of our families and balance that with the realities of our team members."
In the metro area where many workers with young children filled essential worker positions — particularly for communities of color — child care was critical to their survival.
"Many of our families are not the families that have work-from-home job situations," Robinson said. "They were maybe working hourly jobs at the supermarket or other stores that were open. They didn't have the same kind of opportunities as others who work from home."
The hardships of the labor force led to a drop in enrollment numbers across child care centers nationwide. Many families simply couldn't afford the high price tag of $8,112 a year for infant care, which on average equates to 31% of a single parent's income.
Despite having fewer paying families, centers struggled to navigate higher operating costs due to the new safety measures put in place to help curb the spread of the virus.
Goldberg, with the Georgia Early Education Alliance for Ready Students, said the organization has not seen the substantial loss of licensed child care capacity statewide that it feared going into the pandemic.
But the new set of obstacles providers face are compounding long existing problems.
"I think that the real challenge is that providers are still barely holding on," she said.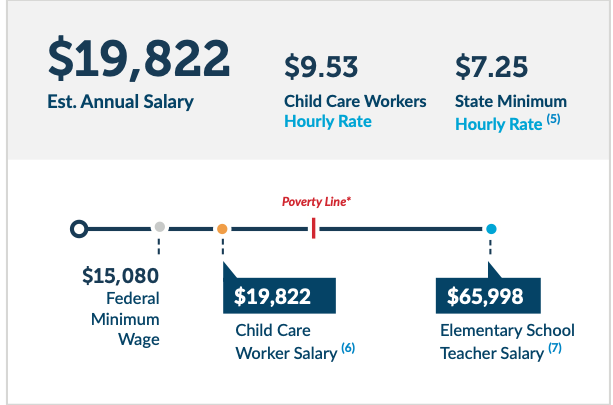 When federal relief runs out
Amy Jacobs, commissioner of the Georgia Department of Early Care and Learning, worries what will happen after October 2024.
During a usual year, the department receives a $380 million allotment from the federal government to maintain operations. The combination of federal relief packages aimed to stabilize the industry has increased its bucket of money more than five times over.
The federal government has required that all relief money be utilized within the period of a little more than three years.
DECAL has received about $2 billion during the course of 12 months compared to the usual $380 million, Jacobs said.
"It's a historic investment in child care but it's one-time money. We have no guarantee that this money is going to be an annual appropriation to DECAL or to any other state for that matter," she said. "So we have to be really, really careful on what we fund because obviously the money is going to go away."
The state agency received about $1.6 billion in the most recent COVID-19 federal relief package, with the stipulation that at least $900 million goes directly into the pockets of providers to help them recover, Jacobs said. Through previous relief bills, the department has already dispersed about $165 million in three rounds of stabilization grants to providers.
"I am concerned because there's a lot of good things we can do with the dollars," she said. "I think we can impact wages of the workforce which they desperately need. But when the money goes away, we're really putting programs at a disadvantage."
President Joe Biden's administration has signaled additional investment in the child care industry through the American Families Plan, which outlines a universal pre-kindergarten program for every 3- and 4-year-old in the nation.
"It's exciting to see what a robust government response to the needs of the people are," said Stephen Owens, senior policy analyst with GBPI. "We're seeing what it could look like, if the state of Georgia were to follow the lead, to invest robustly into its children. We're seeing what the payoff is going to be and we'll be able to see that for years in the future. So imagine if we didn't think of this as one-time funding."
But child care advocates are worried the federal government may not follow through.
The devastation of the child care industry due to the pandemic falls on the 50th anniversary of President Richard Nixon vetoing the Comprehensive Child Care Development Act in 1971, that would have established universal child care.
"This is such an important policy moment," Robinson with the Center for American Progress, said. "Are we going to miss our moment again?"